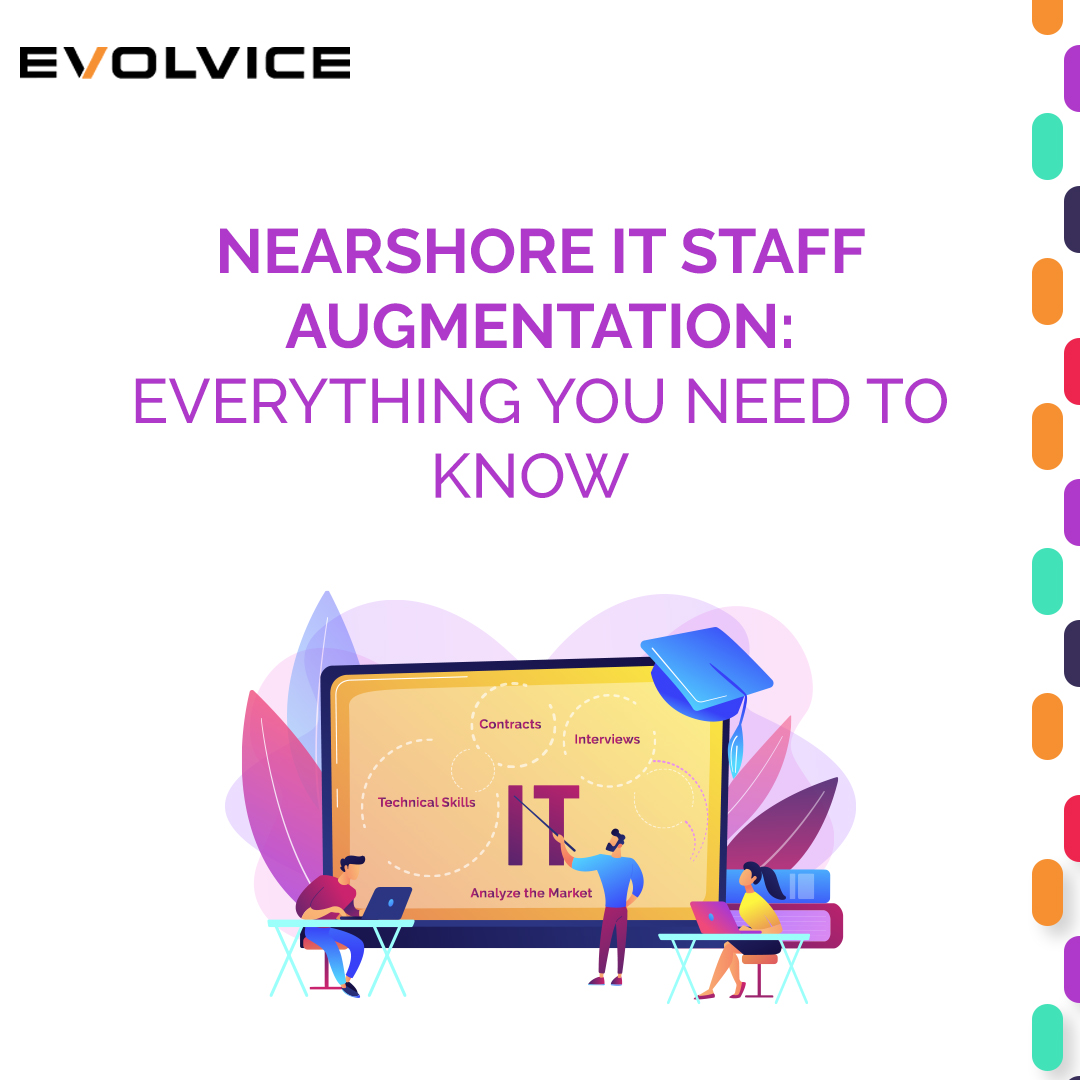 Are you looking for IT support without the hassle of long-term commitments or extra overhead costs of hiring a software team? If so, nearshore IT staff augmentation may be the right solution for your needs. Nearshore staff augmentation is an increasingly popular option for businesses to access the latest technological advancements while keeping costs low. 
So, let's get started! This blog will explain precisely what nearshore IT staff augmentation is and how this technical recruiting can benefit your business. We'll also discuss some technical details of nearshoring software development and considerations that must be considered when choosing an offshore partner. By the end, you will have all the necessary information to decide if nearshore staff augmentation suits you. 
What Is Nearshore IT Staffing?
You can hire professional tech experts in nearby countries with nearshore IT staffing. This type of staffing allows you to access highly skilled individuals without paying high relocation costs. Plus, these IT professionals understand the latest technology trends, so they can help you stay ahead of the competition.
To maximize your tech investments, nearshore IT staffing is ideal. With access to experienced professionals at competitive rates and improved communication, you can rest assured that your tech needs will be well taken care of.
You can learn more about the IT staffing and remote team at Evolvice GmbH here.
Benefits of Nearshore IT Staff Augmentation
IT nearshoring brings tons of benefits to your business. Let's review some of them below.
Cost Savings
 Nearshoring IT staff provides significant cost savings over traditional onshore IT staffing. Not only do you save money on salaries, but you also save money on overhead costs such as premises and equipment. The lower labor costs in nearshore locations allow for greater flexibility when budgeting for large projects or long-term contracts. 
Access to Expertise
Nearshore IT staff augmentation allows businesses to access highly skilled professionals outside their local market. This can be especially beneficial when specialist skillsets are required but need help finding locally. With a larger pool of talent available, companies can more easily fill gaps in their workforce by tapping into the expertise of overseas professionals. Evolvice has access to 500,000+ talents and five development hubs located in four different countries (Germany, Ukraine, Egypt, and Portugal).
Rapid Deployment
The speed of communication and the proximity to the source location mean that nearshore IT staff augmentation can be deployed much quicker with our access to a pool of candidates collected over the years. This makes it possible to rapidly scale up resources when there is a period of high demand or to fill any gaps in staffing caused by unexpected absences quickly.
Quick Response Time
With IT nearshoring, businesses benefit from quick response times should any issues arise. The time zone is similar. The team members are located relatively close by, so they can respond to queries and fix problems more quickly than if they were working remotely from overseas. For example, at Evolvice, our development hubs are in the same time zone as Europe.
Flexible Contracts
Nearshore IT staff augmentation allows for greater flexibility regarding contract length and additional services required. This makes it easier for businesses to adjust the team size without starting from scratch or finding a new service provider.
Improved Technical Knowledge
Nearshore IT staff augmentation providers can offer valuable insights when working with new technologies. They are better placed to advise on the best tools and systems to use and suggest any improvements that could be made to increase efficiency and output. Their expertise can help businesses stay ahead of the competition by ensuring they can access the most up-to-date solutions. At Evolvice, we can find developers with experience in the client's domain. As we are not limited to a specific location, we can find people with top technical skills and domain knowledge who can contribute to clients' businesses with their experience.
Better Team Synergy
With nearshore IT staff augmentation, it's easier to build a team of professionals who share a similar working culture, language, and technical know-how. This helps create an atmosphere of trust, leading to improved output and higher-quality work. All these factors combine to make nearshore IT staff augmentation an excellent option for businesses looking to grow their teams of developers or improve their use of technology.
With the many benefits of Nearshore IT staff augmentation, businesses can rest assured that they are in good hands. They will benefit from cost savings, access to expert resources, improved communication, faster deployment times, and better team synergy within their project. Ultimately, this allows them to stay ahead of the competition by taking advantage of the latest technologies and solutions. With nearshore IT staff augmentation, businesses can achieve tremendous success in their projects with ease of mind and high quality.
What to Look for in Qualified IT Professional
When searching for a qualified IT professional and reviewing their IT resumes, business owners should be sure to keep the following points in mind before technical interviews:
Define Your Needs
Every project is unique and requires different skills, so defining precisely what you need is essential. Consider the project's scope, how long it will take, and any special skills that may be required. Once these are determined, you can assess which professionals have the best qualifications for the job.
Soft Skills
In addition to technical knowledge, your chosen professional should possess specific soft skills. Communication abilities, relationship-building capabilities, and problem-solving aptitude can make or break a successful working relationship.
Technical Skills
Technical proficiency is an essential factor when selecting a qualified IT professional. Ensure that the candidate's skills match your project's requirements and that they have appropriate certifications or qualifications.
By considering these points, business owners can be better prepared to find experienced developers who meet their specifications and can deliver results.
How to Find Nearshore Qualified IT Staff
Are you looking to find nearshore qualified IT staff for your business? We've got you covered. With this step-by-step guide, we'll take you through finding highly skilled and reliable workers quickly and easily.
Step 1: Analyze Nearshore Options
Once you have identified your needs, it's time to find the best nearshoring option. Countries like Egypt, Ukraine, and Portugal are great options for qualified professionals in information technology. Each country has different advantages and disadvantages depending on the type of staff you're looking for. Look at the various countries and their qualities before making a decision.
Step 2: Choose Your Partner
Now that you've identified the country where you want to outsource IT and staff, it's time to select an experienced nearshore partner who can help you with recruitment, management, and support services. Look for partners with extensive experience in the field and a proven track record of success. They should be able to provide you with all the necessary references, testimonials, and other legal documents.
Step 3: Assess Potential Candidates
Once your nearshore partner has identified potential candidates who meet your criteria, conducting interviews and assessment tests is time. Consider their technical skills, communication abilities, attitude towards work, problem-solving capabilities, experience in similar projects, and more. This will help ensure you get the best IT staff for your business needs. 
Step 4: Finalize the Contract
Once you have chosen the right candidate for the software development job, it's time to finalize the contract. Ensure to include critical technical details such as modes of communication, payment schedules, and any other applicable clauses. Also, ensure that the contract aligns with the country's labor laws.
And there you have it – a complete guide on how to find nearshore qualified IT staff for your business! Following these steps, you can easily find reliable professionals handling all your IT needs. So, get started today and make sure your business gets the best IT resources available!
Conclusion
In conclusion, nearshore IT recruitment is a great way to quickly expand your business's capabilities with qualified talent. With access to skilled professionals in nearby countries, you can get the skills and expertise without expensive relocation costs or long wait times.
With the right nearshore IT staff augmentation strategy, you can easily stay ahead of the competition and cost-effectively increase your market share. By leveraging their knowledge base, you can ensure that projects are completed on time and within budget. Ultimately, it is the perfect way to get a competitive edge without delays while maintaining top-notch quality. If you want to help find the best IT and developers' talents for your project or to learn more about the peculiarities and rates in our outsourcing markets of Portugal, Ukraine, and Egypt? contact us today to help with your questions.