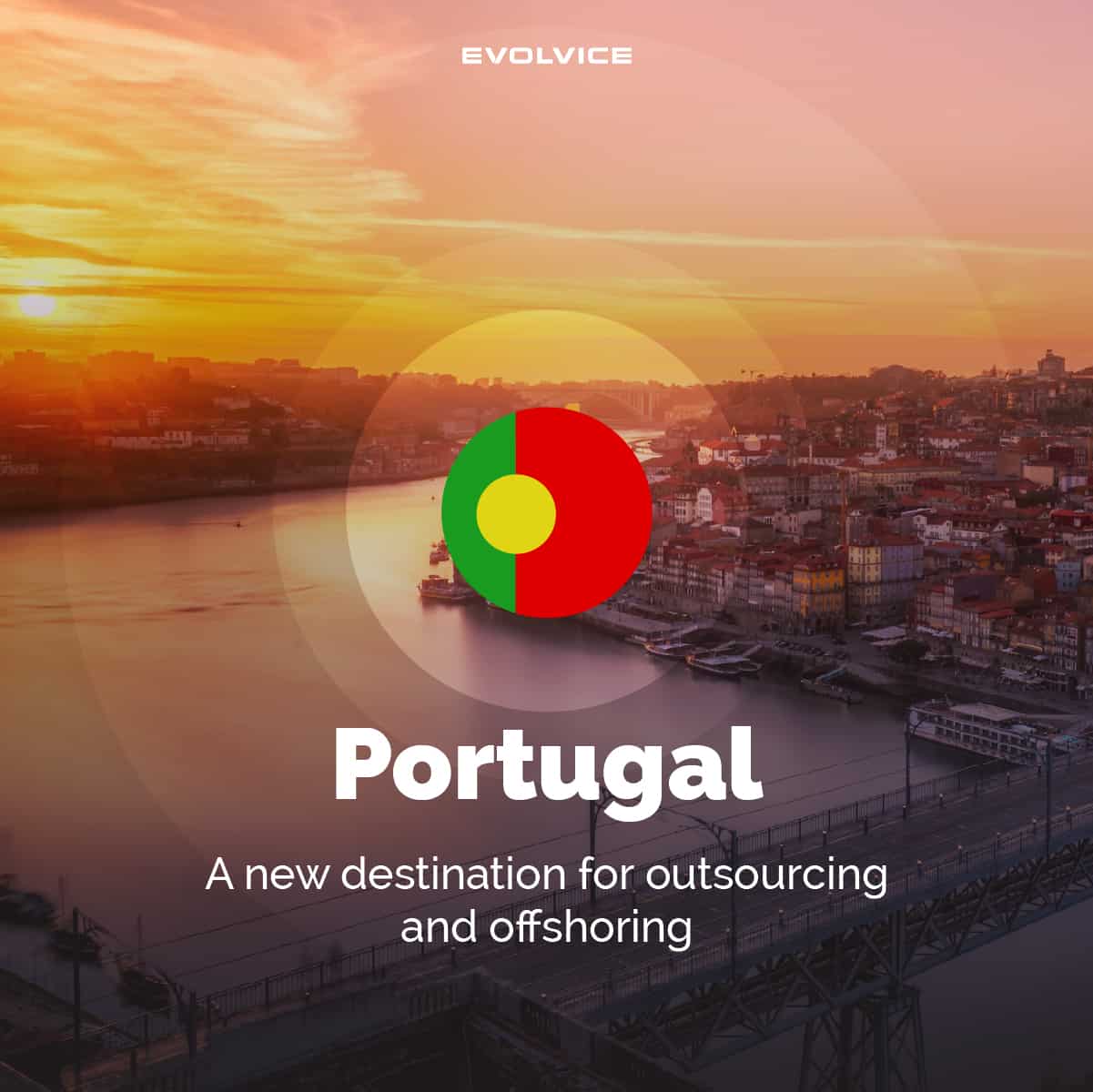 Countries in Eastern Europe, some of the world's famous IT hubs, may first come to mind when asked about the best locations for outsourcing and nearshore software development. However, Portugal may replace all other options if you seek innovative ideas, experienced professionals, and superb English proficiency.
Portugal's Outsourcing Market in Brief
The value of Portugal's outsourcing business keeps growing since the country is becoming a favored nearshore location for major European companies. Global powerhouses with established nearshore operations in Portugal include Google, Microsoft, Nokia, Siemens, and SAP SE.
The country is becoming more well-known internationally due to the exceptional growth of foreign investment in the technical domain in recent years. While most IT efforts may be found in the Lisbon and Porto regions, other locations are seeing a rapid rise as an alternative to or in addition to these two major urban hubs.
The Portuguese Trade and Investment Agency has been keeping track of recent investments. It has been found that the availability and excellence of talent is the main reason why tech-driven projects choose Portugal as their location. In addition, about 1/3 of people who complete their college education yearly are majoring in STEM.
Why Choose Portugal for IT nearshoring?
Custom software development in Portugal is popular among companies looking to outsource their operations. Below you can read why hiring a software team in Portugal could be a winning decision for your business.
Dynamic Tech Scene
The Portuguese IT industry is a cutting-edge, forward-thinking sector contributing roughly 10% to Portugal's GDP.
By the end of 2022, the software development market in Portugal is expected to be worth €914.4m.
Cities like Lisbon, Porto, Aveiro, and Braga have played crucial roles in making Portugal a leading digital hub in Europe, thanks to the country's excellent educational institutions, thriving startup scene, and public funding of business and research & development.
In 2019, Portugal ranked 7/138 in terms of quality of infrastructure by the Global Competitiveness Index Report.
This is a direct measure of the quality of the roads, telecommunications, and internet access. In addition, Portugal is ranked 10th on the fastest internet speed in the EU (European Union)
The National Cyber Security Index is a global live index measuring countries' preparedness to prevent cyber threats and manage cyber incidents.
According to it, a country must have appropriate capacities for baseline cybersecurity, incident management, and general cybersecurity development to avoid these cyber threats.
Portugal ranked #7 among 160 countries by the cybersecurity index (The United States ranked 21, the United Kingdom 22, and Canada 36.
Entrepreneurial intentions and foreign investments are encouraged in many ways. For example, through Horizon Europe Funding programs, Business Incubators, and coworking spaces, as well as hosting significant international events like the Web Summit, Lisbon Investment Summit, and Landing Festival.
There is no doubt that the Web Summit, previously held in Dublin and now in Lisbon, is the most important technology conference in the world. About 70,000 individuals show up there every year. What's more, the event hosts 1,200 speakers and 900 businesses.
Some of the speakers at Web Summit 2022 are Changpeng Zhao (a founder & CEO of Binance), Sebastien Borget (a co-founder & COO at The Sandbox), Nik Storonsky (a founder & CEO of Revolut), Adwoa Aboah (a founder at Gurls Talk), and Guillaume Pousaz (a founder & CEO at Checkout.com). The list of famous business leaders looks impressive.
The Lisbon Investment Summit is another event attracting people from around the globe to Portugal. It is an unpretentious gathering of Europe's most successful investors, business owners, and executives. An influential group of speakers attends it annually, and many venture capitalists and companies compete for visibility.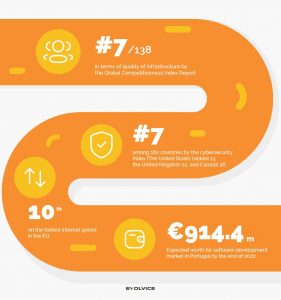 Competent Developers
The Portuguese workforce is exceptionally qualified, knowledgeable, and ambitious. IT experts in this nation have excellent training and experience and can easily adjust to new environments. This is a result of several factors. First, Portugal has six tech universities withinside the World Top 500 and ranks in the bronze League on expenditure on education.
When factors including investment, development, popularity, and preparedness were considered, Portugal ranked in the World Talent Ranking of 2021, and Portugal ranked 26  in the investment, development, appeal, and readiness categories—ranking higher than countries like France, Spain, and Japan.
Despite its size, the country has brilliant minds (check it out by contacting our developer's team). There are reportedly 9 software engineers for every 1,000 Portuguese.
It is estimated that Portugal has 93800+  professional developers.
Nearshoring in Portugal guarantees that your international tech teams will communicate without issues.
Just think for a moment –Portugal is #7 among the countries with the highest English proficiency in the world. This means that companies won't have any trouble finding great talent with solid language skills.
With a vast pool of STEM graduates from high-quality universities, the country can fill various tech roles, such as software engineers, network engineers, IT and support engineers, QA engineers, UX/UI designers, Scrum Masters, and DevOps engineers.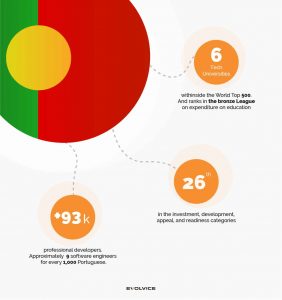 Favorable Location
Portugal's proximity to the rest of Europe and its relatively short time difference from their capitals make it an excellent spot for nearshoring and outsourcing. Such a convenient location facilitates better coordination and productivity amongst teams working in various time zones. They can interact every day while creating cutting-edge software solutions.
It's important to note that Portugal has three airports: Porto, Lisbon, and Faro.
Every major European city is accessible by direct flights, so it's easy for colleagues to meet for in-person work sessions or team-building events.
Peace and Political Stability
After the revolution of 1974, Portugal's parliamentary democracy stabilized, and only two parties ever formed a government. In contrast to other nations, Portugal's democracy is stable. A social democratic approach and parties with extreme left or right leanings do not hold significant power and do not play a significant role in the political process.
Only a few nations surpass Portugal in the 2022 Global Peace Index, which places the country in the sixth position. Domestic or international conflicts or terrorist attacks are almost unheard-of in Portugal. We rarely see acts of violence, xenophobia, or racism there.
6th most peaceful country in the world. Portugal ranks among the 64 locations withinside the Cost-of-Living Index 2021 chart, favorably evaluating Ireland, France, the UK, Spain, and Slovenia.

Still, have any doubts?
It's no secret that it's becoming harder to find and employ talented developers due to a shortage of specialized knowledge in a specific technology. This drives businesses to seek out novel ways of using their resources wisely. Thus, many of them turn to nearshoring software development.
In this context, selecting an outsourcing partner you can rely on is paramount. Evolvice is a top software company with 10+ years of experience in the tech space. With four offices in Germany, Ukraine, Portugal, and Egypt, we can offer access to a 60000+ diverse talent pool, 10+ experiences, business time flexibility, and accessible communication.
Integrity and dedication to the customer with an eye toward mutually beneficial partnership are at the core of our work. The agile approach, flat organizational structures, and complete transparency are all hallmarks of Evolvice's culture. What's more, we welcome new opportunities and strive for continuous growth. To learn more about the peculiarities and rates in our outsourcing markets of Portugal, Ukraine, and Egypt? contact us today to help with your questions.